My top 5 paleo salad bowls
For lunch most days I have a salad bowl, I need something that is quick and easy to put together and if it can be cooked in batches for a few days at once, even better. When I'm building my bowls I'm focusing on three main things; high quality protein source, healthy fats and high fibre. If you follow this template you can't go wrong! I tend to get my protein from eggs and fish at lunchtime but you could totally swap other sources in if you prefer. All ideas here are gluten, dairy and grain free, enjoy!
courgette fritters and kimchi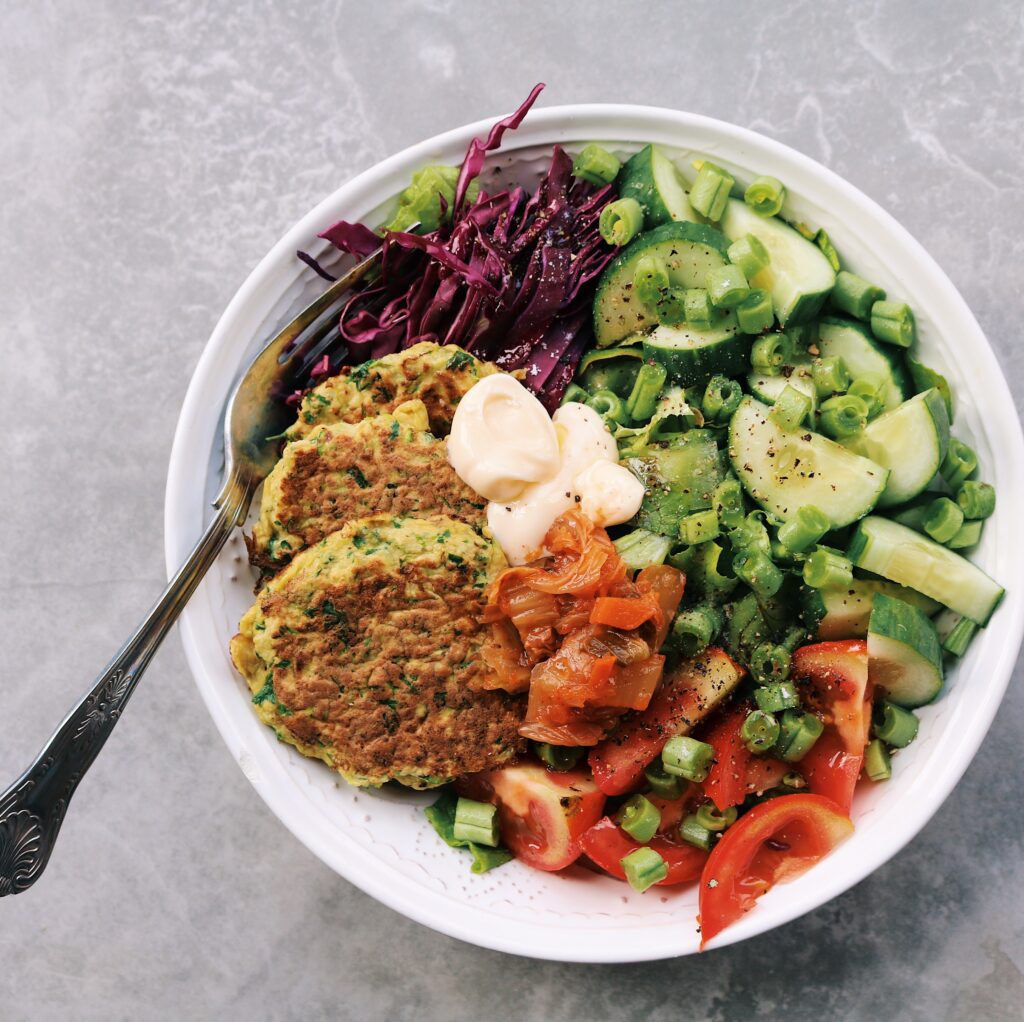 Courgette fritters with kimchi, mayonnaise and salad. I make my own mayonnaise but if you want to use shop bought look for one made with avocado oil or olive oil rather than the usual sunflower/ rapeseed etc as vegetable oils are super inflammatory.
The trick to good fritters is to squeeze the grated courgette in a clean tea towel to make sure it is as dry as possible – then they hold together much better when you pan fry them!
To make these you will need 2 medium courgettes (grated), 1 egg, 1-2tbsp coconut flour and salt and pepper. Combine in a bowl and form into fritter shapes. Heat a frying pan with a glug of extra virgin olive oil and cook until brown on both sides.
sardines and sweet potato wedges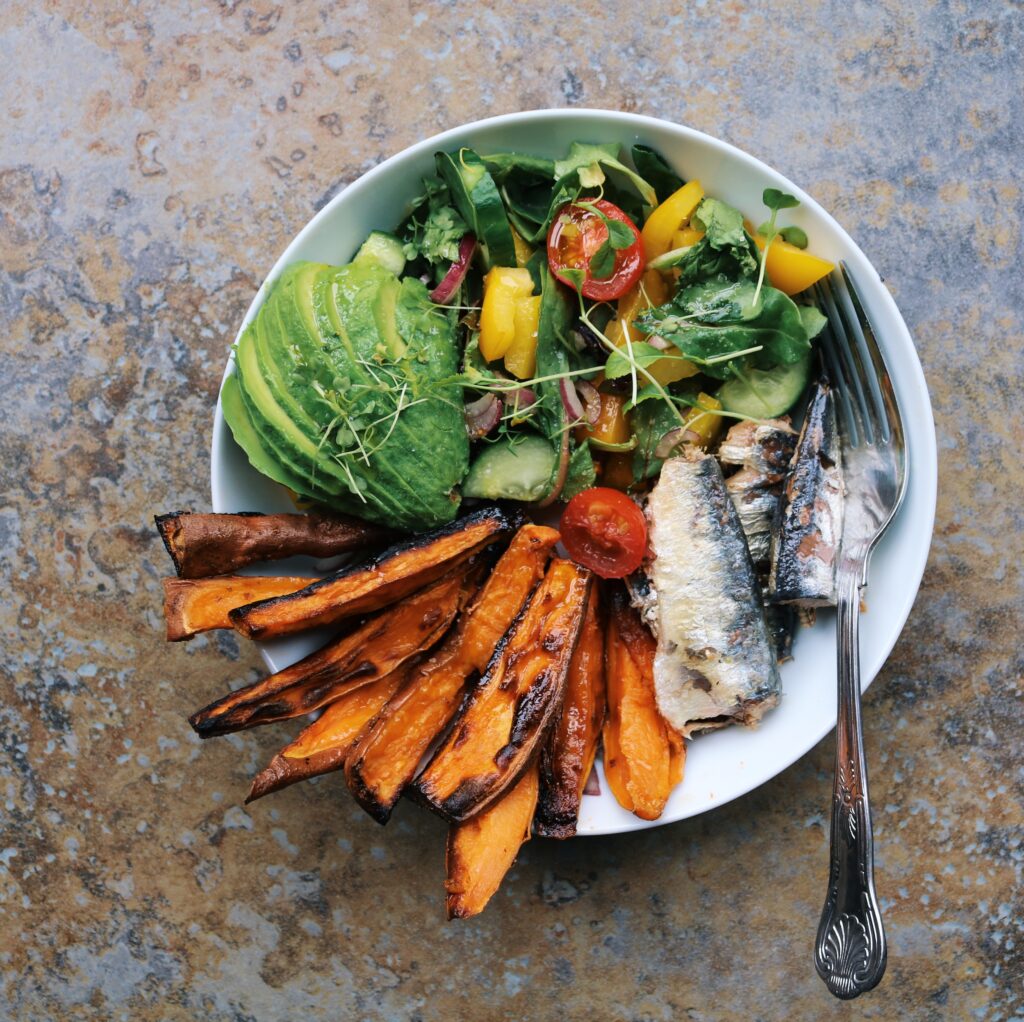 If you follow me on Instagram you will know that I have a bit of a love affair with sardines! I eat mackerel, sardines or salmon a few times every week and will often choose a tinned option as they are affordable and so easy just to grab from the cupboard. If you are buying tinned fish look for ones in olive oil, spring water or brine.
These are some sweet potato wedges which have been tossed in extra virgin olive oil and roasted in the oven at 180'c for around 45 minutes. If I'm having roast vegetables for my evening meal, I'll often do a few extra to have at lunch the next day!
A simple chopped salad of spinach, yellow pepper, tomato and red onion perfectly compliments this combination.
bacon and roasted roots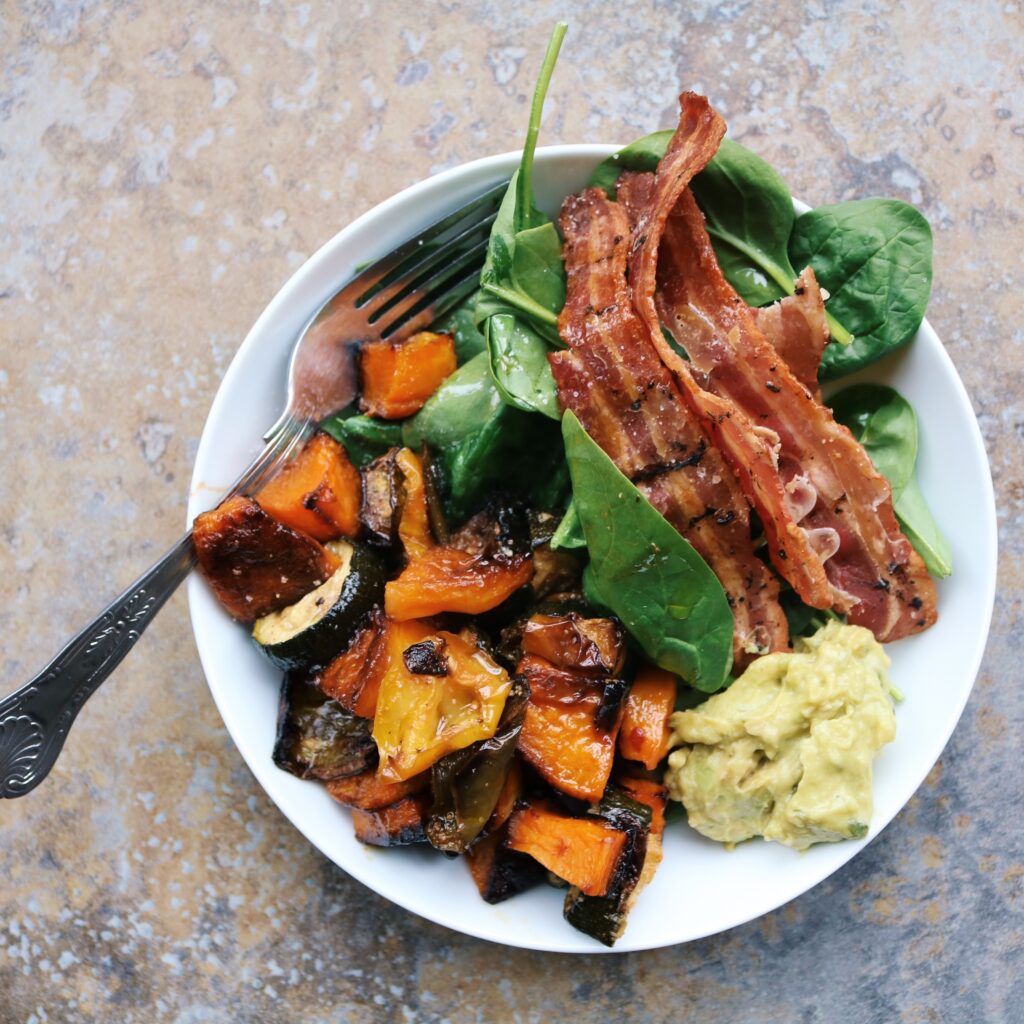 I try to eat in tune with the seasons and I need warming foods in winter so will opt for a warm salad or soups most days.
Organic streaky bacon for maximum fat content with roasted root vegetables (again from the night before!) dipped into a chunky homemade guacamole, yum!
Bacon gets a pretty bad rap these days but the screaming headlines about it being carcinogenic are far more nuanced than that and in fact the increased risk of cancer from processed meats is minuscule. If you are worried about it, reduce your intake and it's now possible to find nitrate free versions in the shops.
egg fried chilli cauliflower rice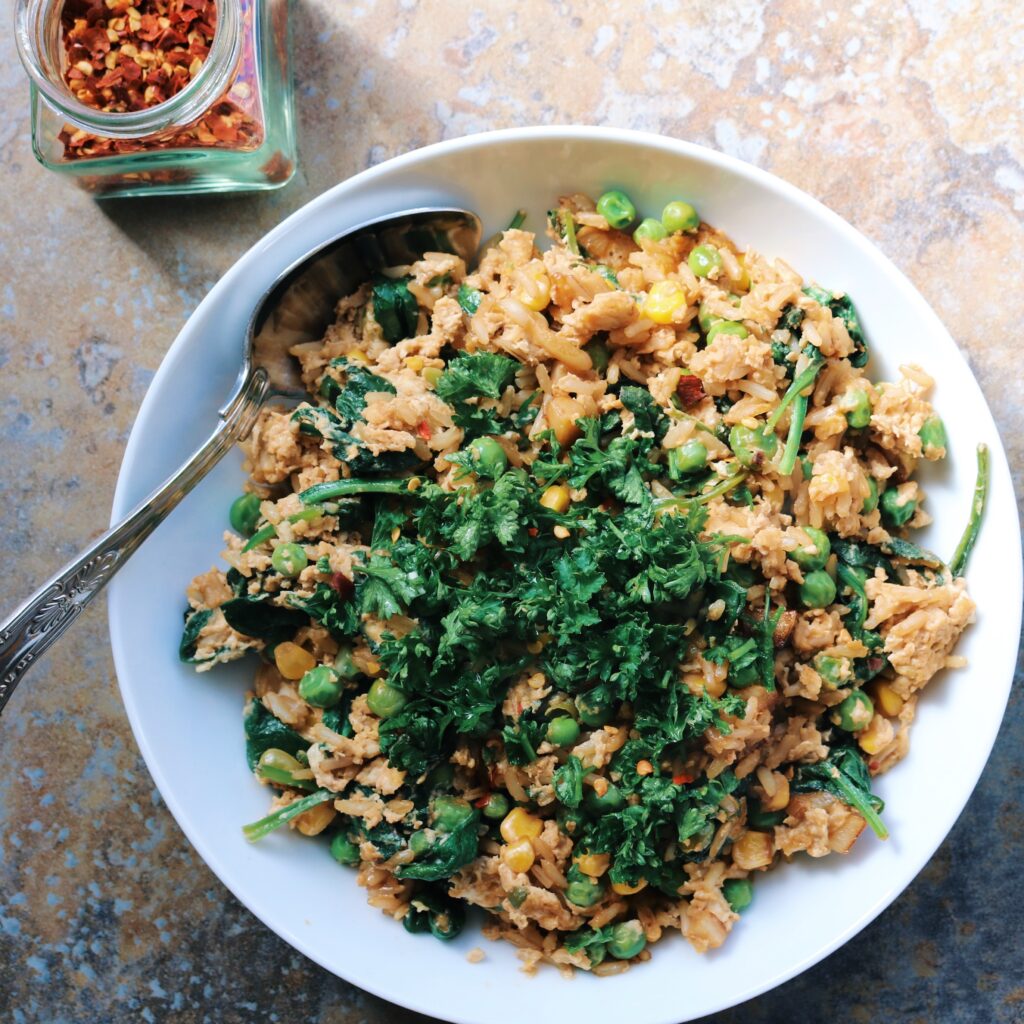 This is a Chinese inspired fried 'rice' dish which comes together in less than 5 minutes and is another warming option for autumn and winter.
Start by frying 2 cloves minced garlic, 1 tbsp minced ginger and 1 tsp chilli flakes in 1tbsp coconut oil a large frying pan. After a few minutes add 1 cup of mixed stir fry veg, and 1.5 cups cauliflower rice. After a few minutes add in two eggs and mix quickly to cook and scramble. Stir through a few glugs of tamari (gluten free soy sauce) or coconut aminos and top with fresh coriander to finish!
I live on cauliflower rice, it's a solid base for most meals and does really satisfy that need for a *thing* to accompany a main if you are used to having pasta or rice. You can buy ready made cauliflower rice but if you have a grater or a food processor it's much cheaper to make your own.
'eat the fridge' leftovers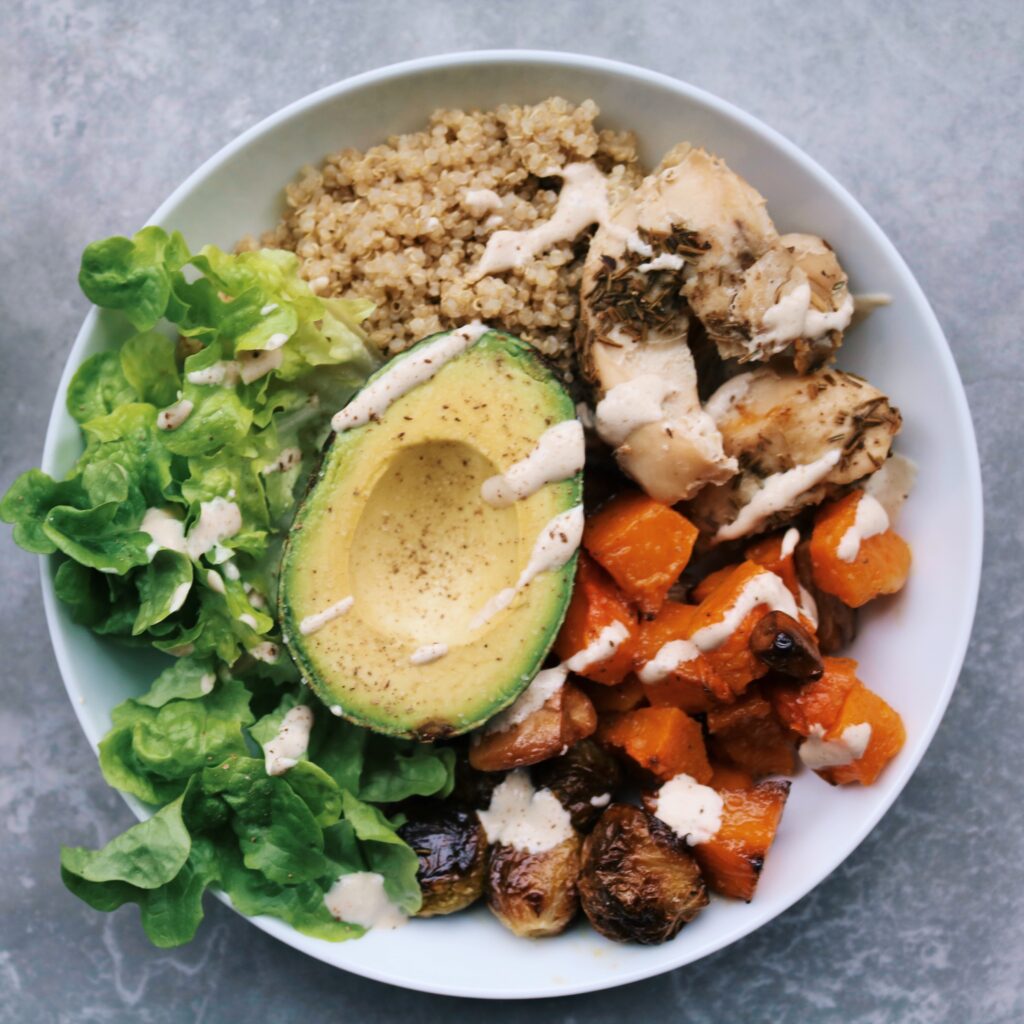 This is slightly cheating as most of these salad bowls do contain leftovers. I eat this way all the time as it's a great time and energy saver if you can get into the habit of cooking extra portions of your evening meal or a few lunch options at once.
Roast chicken, roast root vegetables, cauliflower rice, salad and avocados brings all the meals here together and it's an invitation to mix and match!
Brightening up leftovers with a quick sauce or dressing can transform a meal and this creamy tahini one is my go to. To make you will need 2 tbsp tahini, 1 tbsp lemon juice, 2 tbsp warm water, salt and pepper – whisk all together until you get a smooth sauce, the more water you add the thinner the consistency for optimal drizzling potential!